Preparing Clients for Time Off: Creative Business Feature Loren Jackson
I started my photography business in May of 2015. I loved photographing new moms and sweet babies and swore to anyone who asked I would have absolutely nothing to do with weddings.

That is until I saw the post.
It was later that year, around September of 2015 and I was browsing a Facebook group for our local Rising Tide - Tuesday Togethers Canton chapter (a group I had just recently joined) when I saw a post from a wedding photographer (someone I had never heard of) looking for a little extra help shooting at an upcoming wedding.

I almost kept scrolling until I saw the comments on the post. Several other photographers weren't available, but they took the time to comment and say things like "If you can go.. GO! Loren is who everyone should be learning from!"
She wasn't offering coaching at the time (but she is now, with limited availability!), so this opportunity to work with and learn from her was something I felt like I couldn't pass up.

It was almost like my fingers made me do it... but next thing I knew I was commenting saying that I was available. Available ya'll... to do what exactly?? I was brand new in my business, still relatively new to photography, and I had just signed up to help a complete stranger at another strangers wedding.
Soooo not me, but I volunteered, and I went.
I helped Loren at that wedding in October.. and then again at another wedding in November.
To make a long story short, in one year I transitioned from second shooter, to primary photographer (booking 10 weddings in my first year), to realizing that wedding photography wasn't quite for me, and feeling the need to pivot my business.
In August of 2017 I heard about Private Photo Editing. So, I invested in education, and made a post in that very same Tuesday Togethers Facebook group reaching out to photographer's about this new venture I was jumping in to... and that's when life came full-circle and Loren commented.
I wasn't surprised when Loren often talked about outsourcing in order to be more available for her husband and hopefully, for a future family. We started working together in October of 2016, and around May of 2017, Loren was blessed to be able to announce that their family was in fact growing.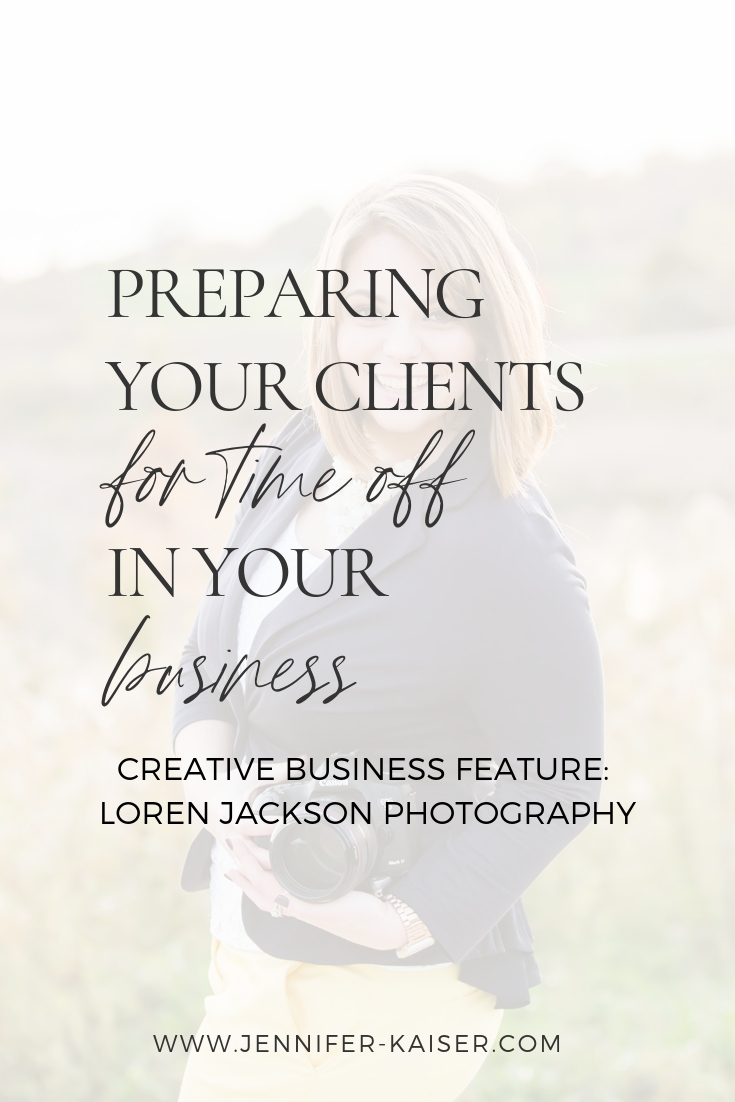 Through outsourcing her editing over the past year, Loren was able to make specific things happen in her business to prepare her for an extended time off, Maternity Leave. There were also several VERY important things that took place in order to prepare her clients for her time away from the computer and her new role as Momma.
But I'll let her tell you the rest from here.
Preparing Clients for Time Off
This past December, I become a momma to a beautiful 7 pound 11 ounce baby girl. I knew early on in my pregnancy I would want to take as much time off as I could to spend with baby Charlotte and navigate the waters of motherhood with no added work stress.
At 36 weeks, I photographed my last wedding. As soon as I delivered the wedding gallery to my Bride, my auto responder on my email went up, and I started my maternity leave. My Brides knew early on that I would be on maternity leave shortly before Thanksgiving until the beginning of March. I was slightly concerned what they would think with that much time off, but I made sure to have plenty of touchpoints letting them know of the extended time away. And every single couple told me to enjoy that time with my baby!
One of the beautiful things about working for yourself is deciding when to take time off, and how long you want to be off the grid. You are your own boss. No one but yourself is going to approve or deny your leave.
Planning Ahead
If you're just wanting to take time off for the holidays, an anniversary, or a vacation, look at your calendar at the beginning of the year and mark that time off. Every hustling entrepreneur needs time to rest. Without rest comes burn out. Burn out then leads to unhappy clients and a miserable business owner. TAKE CARE OF YOURSELF!
Communication is Key
When you have your time off marked on the calendar, there are several different ways to communicate that to your clients. The easiest way to go about that is simply adding the time off at the bottom of your email signature. That way every time a client receives an email from you, they'll see your "Out of Office" dates.
Another easy way to communicate time off is if you have an email autoresponder turned on for all your received emails. The auto responder could be something as simple as "Hey there! I just wanted to let you know your email has arrived safely in my inbox. Here are helpful links to gander at while you wait. Also - looking ahead on the calendar, I plan on being out of the office on X dates." That's just an example but you get the gist.
Reminding Clients Ahead of Time
It's always a great idea to remind clients ahead of time that you'll be out of the office and away from your computer before you actually step away. One way to remind your clients would be to send each client an email reminding them of your time off. If you have a Facebook group with all your clients in there, it also wouldn't hurt to make a post in there, as well. This way you've made multiple touch points mentioning you will not be available for an extended period of time. Be sure to set expectations and any deadlines for projects you have with them in that email or Facebook post.
Email Responder While Out
The best time to have an email autoresponder on is while you're out of the office. Elements to the responder you want to include would be:
Mentioning you received the email

You're out of the office until X date

Whether they can expect to hear from you or not

If they will hear back from you while you're out - how many days should they expect to wait

Adding links to information that they may find beneficial is a bonus for you and them. These links could be to helpful blog post content or information they would find valuable about your client experience.
Social Media
While you're out of the office, do you plan on having your social media quiet, as well? If not, plan content ahead of time so you can truly unplug. You can schedule your instagram posts with sites like Planoly or Later. My favorite way to schedule blog posts to post to Facebook is using CoSchedule. Here's a blog post I wrote about how I use CoSchedule.
If you would rather not have to worry about planning out content and scheduling posts, that's okay too! I would have the very last post on your Blog, Facebook Page, and Instagram mention that you're out of the office until X date and when you're back in you'll respond to all emails in the order they were received.
Stepping away and refueling is so important for your sanity and the client experience you are able to provide. Time off for anyone is warranted and you should not feel guilty closing the computer and spending time with your family. Clients will understand the time off is well deserved and will appreciate the effort you have taken to inform them you won't be as easily accessible as before.
Learn From Loren
Loren is the one photographer I have learned the most detailed photography skills from in just TWO weddings.
She's the one business owner I have taken the most information from over the course of the past two years.
Everything Loren does is with intention, purpose, and for the better of her family, her brides, and her business.
As a former high-school teacher Loren believes in the power of education.
"Eight years ago I decided I wanted to become a high school social studies teacher. I wanted to teach students the importance of wars and the impact they had on our lives today. While my classroom today looks much different, my thought process is still the same. The experiences we give our clients impacts not only the client's life, but generations to come.

I love sitting down with business creatives and mapping out a plan for success. While success will look different for each individual creative, it's important to write down goals and action plans to ensure there will be greater impact on the lives we touch.

As a former teacher, I can't express how important continuing education is. Whether you're spending time at conferences, trade shows, workshops, online courses, or one-on-one coaching with me, growing your knowledge to better your business is vital for success."
As a photographer who went from booking 25+ weddings per year, to now being able to serve her ideal bride and cut her weddings per year in half, Loren is my go-to resource for all things weddings.

And you can chat with the woman behind the camera by booking a coaching session with Loren here